This Device Makes any "Old Fashioned" Audio system WIRELESS!
Connect to any existing stereo amplifier, AV receiver, or powered audio system and stream all your music from any app or device wirelessly in Hi-res audio.
"Auris raises Bluetooth audio quality by adopting the latest Hi-Res standard."
"You can easily move between rooms without the music cutting out."
"The Auris bluMe is a great and affordable way to add Hi-Res Bluetooth streaming to your home audio."
"Sounds just as good as listening to CDs, maybe even better. Simple to use. Highly recommend"
It's 2022! Why do Many Audio Lovers still hold on to their Vintage Audio System?
Technology is constantly changing and evolving. Everyone wants to make life easier, better, and cheaper. But we both know that making something cheaper or newer can take away from its original charm!
Our Vintage Stereos were not only magnificent in design but they were made with a lot of power and electrical current capability. And if you're like us, you prefer the rich sound consistency that comes from older equipment, as it leads to a pleasant quality of the music!
Sadly today, in order to save money, manufacturers are cutting quality in receivers' amplifier sections.
If there was a way to make our elegant, never-failing Vintage systems more "Hip," we might finally enjoy music as we did back in the day!
We came across a brand on Facebook called Auris, and judging from the comments, thousands of music lovers call this "Easily the best way to stream digital lossless audio from any device."
Could this be the key to reviving vintage Stereos and opening us up to a world of unlimited music?
"Here are 5 reasons you need bluMe HD in your home"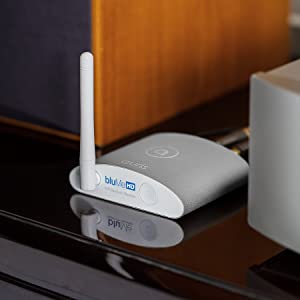 1. Easy setup, connects in seconds. No App or wireless router network is required
bluMe HD is a premium Hi-Fi Bluetooth adapter that streams the highest quality audio wirelessly from your phone, tablet or computer to any home stereo system. Easy setup, connects in seconds.
2. Seamlessly works with all your apps and devices
bluMe HD can play any audio source a Bluetooth-enabled device can access, opening up a virtually unlimited universe of music to enjoy through your Hi-Fi audio system.
3. Enjoy long-range streaming up to 100ft (30m)
Designed with special circuitry and a precision-tuned antenna to extend the wireless range to up to 100+ feet, providing glitch-free performance that works through multiple walls.
4. Sounds better than Wire
With bluMe HD the digital signal is processed by its high-end DAC and high-definition audio decoders. No wonder bluMe HD sounds better than wired hookups!
5. DIGITAL & ANALOG CONNECTIVITY
BluMe HD provides ultimate compatibility with your stereo equipment with Analog RCA and Digital Optical SPIDIF outputs. Also compatible with AUX inputs with included RCA to AUX cable.
"This BlueMe HD is a well made high end receiver for streaming CD quality to any existing stereo system"
Update: Auris BluMe HD is already incredibly priced, and what's better is that they have a 10% off sale that ends soon. We weren't kidding about them selling out fast, so take advantage of this offer. If you want to give new life to your vintage stereo, then this is for you.